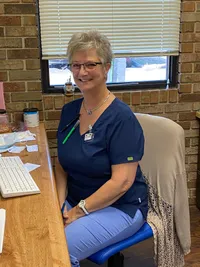 Terri
Terri was born in Pennsylvania and grew up in Upstate New York. She holds a BSN degree with over forty years of experience in the clinical arena. She has held positions in the surgical, orthopedic, ENT, pulmonary and EMS fields. Her passion is driven by the bonds she builds with patients and their families as well as delivering quality care. When not helping our patient family, Terri enjoys spending time with her own family, reading, cooking and gardening. Her four legged fur babies hold a special place in her heart as well.
Terri joined Oak Tree Podiatry in 2019 and we are lucky to have her experience, knowledge and giving attitude on our team.
---
Angie

Angie joined Oak Tree Podiatry March 2020. She enjoys greeting the patients and helping to make sure the check in process goes smoothly. She has been married to her husband, Richard, for 26 years and is the proud mother of Hayden and Molly as well as the luckiest mother-in-law of Mallica. When Angie is not at work you will most likely find her spending time with her family, making jewelry and thrift store shopping.
We hit the jack pot when adding Angie to our team. You won't hear a friendlier voice on any phone or see a prettier smile in any office.